[masterslider id="38″]
40 Craft Ideas Especially for Boys
Updated on May 22, 2018
Loraine loves arts and crafts and used to volunteer at an elementary art class. She loves sharing fun and kid-friendly craft tutorials.Contact Author
Finding crafts for boys was a bigger job than I thought it would be when I started my Google search for "crafts for boys." But I think the search was well worth it, because I found some really great ones.
Boys like to do things that they consider to be manly, so I've looked for projects that fit that category. I've included a picture of each of the projects and the name and address of the site. When you click on the site name you'll be taken directly to the project page.
I hope the boys find a project that they want to do. For the directions for the airplane craft shown above, go to the Parents site.
1. Jumping Pixies
I made these little pixies to play with the grandsons when they come to visit. They had a grand time making the pixies jump into the egg carton cups, or I should say, " trying to get them into the cups." Sometimes they took super high jumps and sometimes very short jumps. To make this jumping pixies game, go to we bloom here for the tutorial.
2. Dragon Egg
Do you know a boy who loves everything about dragons, castles, etc.? He'll probably want to make dragon eggs to add to his collection of dragon keepsakes. All the instructions for making a dragon egg can be found at Our Peaceful Planet.
3. Clothespin and Buttons Race Cars
One of the things that makes racing cars fun, is the making of the race car. Clothespins and buttons are the main supplies needed to make this race car. Go to ikatbag for the instructions on making the cars.
4. Harry Potter's Golden Snitch
Everyone that loves Harry Potter books must imagine what the golden snitch looked like. Now you can make one of your own by following the directions at THE SURPRISE-AHOLIC. This golden snitch looks like an expensive sport.
5. Rock Garden Markers
You'll probably want to hide your river rocks when the boys start making these rock garden markers. They can make any size that they want to following the instructions at Adventure in a Box. This is a great gift idea for kids to give to parents or grandparents.
6. Flying Carp
Making koinori, or flying fish, is a way that the Japanese celebrate Boy's Day. These wind socks are made with a fish signifying each boy in the family. I love the bright colors used in this project. You can find the tutorial for making the flying carp at SQUIRRELLY MINDS. An impressive wind sock.
7. Pipe Cleaner Ninjas
Just imagine all the fun that the boys will have making these pipe cleaner ninjas. Find out what you need for supplies and the tutorial for making the ninjas at Frugal Fun for Boys.
8. Balloon Car
The boys can even have races with these cars after making them with a milk carton and a balloon. Find the instructions at wikiHow. When the cars are made, plan on having races with them.
9. Tin Can Lanterns
You can make your own Star Wars tin can lantern, or you can make other images on your lantern. The directions for how to make these lanterns is found at Frugal Fun for Boys. This would be a great camping or scout activity.
10. Paper Rockets
Not only are the boys going to find this a fun project, but you'll be able to use them for your theme on patriotic holidays. You'll find everything you need to know to make these cool rockets at alphamom.
11. Monster Bookmarks
The guys will have fun trying to "out monster" everyone else making these bookmarks. A great gift idea. Find the instructions for making these monster bookmarks by going to TALLY'S TREASURY.
12. Soda Bottle Birdhouse
I'd love to have one of these, so maybe your mother or grandmother would also like this birdhouse. See how easy it is made by going to favecrafts.
13. Sandpaper and Crayon T-Shirt Art
Your buddies and you can have matching t-shirts to signify a team or club that you all are part of. The sandpaper and crayon method is easy to do and inexpensive. Buy your t-shirts at the dollar store and you can design them any way you wish. The instructions for making this t-shirt art is found at the alex nguyen portraits site.
14. Tic Tac Toe
Make this before going on a car trip. Find the instructions for this craft at factory direct craft.
15. Salt Dough Snowman Pops
Making your own salt dough type clay is super easy and inexpensive. Make the snowman pops the way they are shown, or instead of using the lollipop sticks, use a little eye screw to make ornaments. A great tutorial at Eyeballs By Day Crafts By Night makes this an easy project.
16. How to Make a Simple Pop Pop Boat
17. Pine Cone Gnomes
If you've collected a bunch of pine cones and were wondering what you could make using them, the pine cone gnomes is a great idea. Find the instructions for making pine cone gnomes at the we bloom here site.
18. Car Mat
This mat is just perfect for the kids when they're playing with their Matchbox cars and trucks. See how to make this neat car mat by going to a girl a glue gun. I guess I'd better make one of these for my grandson who seems to have hundreds of matchbox cars.
19. Paper Plate Toucan
This is an outstanding paper plate craft that boys will love to display in their rooms. Go to I heart Crafty Things to see how it is made.
20. Wooden Block Cityscape
Let the boy's build the city of their imaginations by supplying them with some wood scraps, acrylic paints and permanent markers. The boys will spend hours making and playing with a cityscape that they build themselves. Find the instructions for this project at CREATIVE JEWISH MOM.
21. Lava Lamp Project
You can use any color food coloring to make your lava lamp unique. The secret is using pieces of Alka-Seltzer to power your lava lamp. For all the information you'll need to make a lava lamp of your own, go to the lil' luna site.
22. Make a Balloon Powered Car
23. Bed Bugs
Of course, boys would love to make these bedbugs to tease Mom or their sisters with. Find the instructions for making these Styrofoam bugs at Parents. I think these would make really cute plant picks. Just add a wooden skewer or a piece of wire to the underside of the bug. Cute!!
24. Marshmallow Shooter
You might want to eat the marshmallows and use little pom pom in your shooter instead. This is a great project to make and game to play when the weather is too cold to go outside. The marshmallows, I mean the pom poms won't wreck the furniture. Find the tutorial for making this shooter at Come Together Kids.
25. Numbered Cars Game
Make learning number a lot of fun for the little matchbox car fan in your family. Find the directions for making this project at B-Inspired MAM. For the older kids, consider making the parking spots an addition space, like the #5 car would park on the 3+2 space.
26. Bottle Cap Snowman Ornaments
If you have a hard time finding bottle caps to make these ornaments with, consider using wooden discs, old checkers or any other small round recyclable. Your imagination will guide you to making this a real unique project. Find the directions for making bottle cap snowmen at one artsy mama/
27. Nature Habitat
Use the basic directions for this project and then do it with a theme you especially enjoy. Find the instructions at DLTK .
28. Tin Can Wind Chimes
A boy scout troop would probably love making tin can wind chimes. A nice project to enjoy at home also. Go to Design Dazzle for the easy to follow tutorial. Make this on a rainy day and enjoy it when the sun shines on the chimes.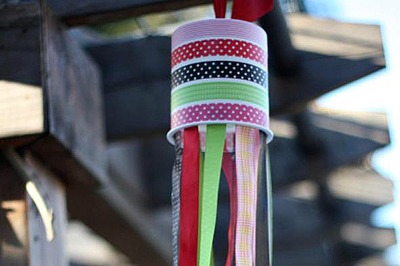 29. Summer Wind Sock
Start saving those plastic frosting containers so you can make this outstanding wind sock. The strips are make using Washi tape, so the way you decorate your wind sock has endless possibilities. The tutorial for making this wind sock is found at CELEBRATIONS.